This week was the end of an era. For the past 22 years Jay Leno has been the preeminent face of The Tonight Show, after taking the reins from Johnny Carson in 1972. Starting next week, however, The Tonight Show will have a new face, and a new generation watching it.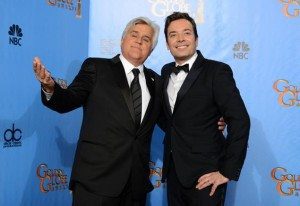 The third person (sans the Conan O'Brien episode) to ever take on this iconic show is one who will usher in a very different format to the show. Jimmy Fallon has gained recognition for his unique SNL-esque skits, specials, and fun take on his current show, Late Night with Jimmy Fallon. For those who find themselves glued to the television at approximately 12:37 eastern time, you have grown to love the quick witted Fallon. Known in the comedy community for years, he got his big break as a scriptwriter for SNL and later became one of the show's more famous cast members. He now has Leno's blessing to take over. In a statement,  Leno was quoted stating, "Congratulations Jimmy. I hope you're as lucky as me and hold on to the job until you're the old guy. If you need me, I'll be at the garage."
But, Fallon has managed to create a balance others find hard to achieve. Many Fallon fans are hoping that most of his quirkier sketches, like thank you notes, slow jamming the news, and many guest appearances by Fallon's long time friend, Justin Timberlake will make the cut. There is more to Fallon's shows however. He has interviewed First Lady Michelle Obama to discuss her campaigns, and has a long track record of using his show as a force for good.  This translates to a very strong online presence as well. Fallon has over 11.5 million twitter followers.
Fallon's old time-slot will be taken over by a fellow SNL alum, Seth Meyers, who just left the show to pursue his late night career. Both are very excited to be working with each other for nightly entertainment. For those who can't wait for Fallon's premiere in a few short weeks, click here for the teaser trailer for what promises to be a great transition.