TikTok is a social media app that has taken the Internet by storm. This app lets users post short lip-synced, music, talent, or comedy videos up to 15 seconds long for millions of users to see. In 2017, a new version of the app Musical.ly hit the market, and TikTok was born. If your company's target audience includes anyone between the ages of 13 and 30, you need to be an expert on TikTok.
TikTok Algorithm
With over 800 million active users worldwide, TikTok created an algorithm that would decide what videos landed on the coveted "for you page." If your video is on the "FYP," expect to experience a rapid rise to fame. TikTok makes it easier than any other platform to go viral because of its unique algorithm. Unlike other social media channels like Instagram, users don't need followers or existing popularity to go viral.
Each video is evaluated using a machine learning algorithm to determine the quality of the uploaded video. An article on Celebrity Access explained that when a video is uploading, it's then strategically placed in between already popular videos. TikTok's algorithm will then measure the video views, the number of likes, comments, shares and downloads it receives. The Celebrity Access article stated that "the ratio is 1 like for every 10 views to trigger the algorithm to show the video to more people."Like most social media platforms, the more engagement the video receives, the more reach the TikTok receives. TikTok reported there are over 20 million monthly active users in the United States. Meaning, the chances your video reaches hundreds of thousands of people or even goes viral is pretty high.
Influencer Marketing with TikTok
This new age network is proving to be very influential on its users. TikTok showcases a wide array of creativity that appeals to numerous niche communities. Popular categories range from dance, fashion, comedy, food and even educational content. These niche communities have generated a new type of influencer, the micro-influencer. Made up of mostly the Gen Z population, micro-influencers can connect directly to users with closely aligned interests as themselves. 
Marketing Campaigns
Influencer marketing, as well as paid advertising on TikTok, has recently started to take off. Companies such as Calvin Klein, GUESS and Sony have been pioneers of influencer marketing campaigns using these micro-influencers. Just this morning, I went on the TikTok discover page to see that PUMA created a challenge called #PUMARemix. In the picture below is the detailed description of the challenge. In short, PUMA created a campaign that not only engages all types of users, but they challenged them to show off their new PUMA Future Rider shoe. The campaign has already received hundreds and thousands of video submissions. Because of this, thousands of TikTok users worldwide, including myself, now know about PUMA's new Future Rider shoe.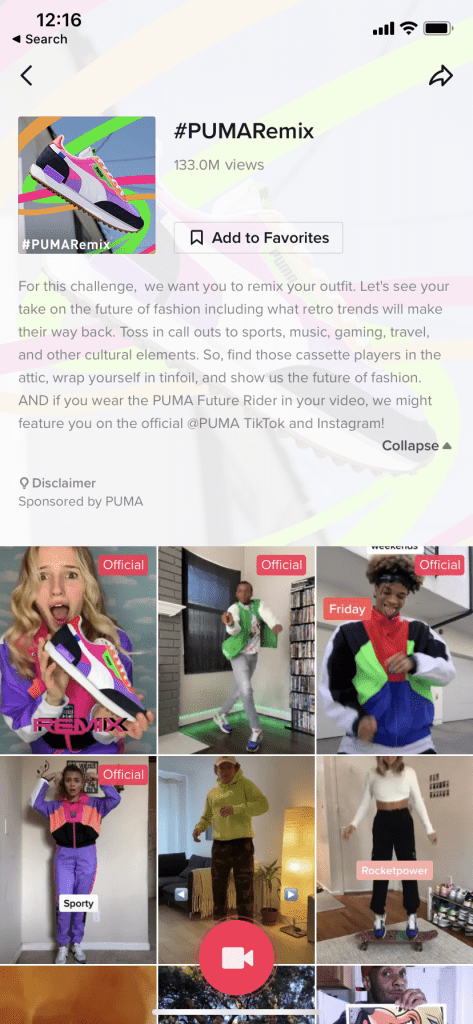 Final Thoughts
TikTok is paving the way for the future of social media, especially in terms of marketing campaigns. It is interesting that, as of now, not many brands are taking advantage of this unique concept. Meaning, there is a huge opportunity for brands to create viral marketing campaigns on TikTok right now. In its first year, TikTok gained 800 million active users worldwide and that number continues to grow.
Brands should be creating original content that uses sounds, follows trends and engages with the target audience. It's only a matter of time before tons of companies realize the hidden treasure that is TikTok. So, create an account, discover popular trends and market to new audiences in a unique way. For more tips about TikTok, read here.