So long to the days of staring at the world through your phone when Snapchatting. Snapchat Spectacles allow you to capture moments through the lens of sunglasses. But, you may not know a lot about Snapchat Spectacles. To learn more, follow along for more information.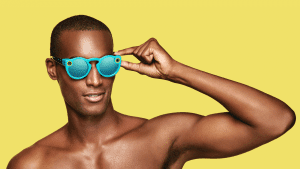 Launch of Snapchat Spectacles
Spectacles debuted in 2016, but there were not easily purchasable until last month. Spectacles were first distributed through Snapbots, Snap's version of vending machines. Snapbots popped up in various cities and never stayed anywhere for more than 24 hours. The hard-to-get aspect of Spectacles gave them a cool factor. Spectacles are no longer so hard to get. On February 20, Snap launched the Spectacles website, making the product easily accessible to all customers.
What to Know Before Buying Spectacles
A pair of Spectacles will cost you $130 plus tax and shipping. In order to use Spectacles, you must have an iOS or Android phone with the Snapchat app.  Your iPhone must be a 5 or newer and running at least iOS 8. Your Android must be running at least Android 4.3. Developers warn that if you are currently confused when using the Snapchat app, Spectacles will likely further your confusion.
Spectacles are not one size fits all–they can be adjusted for a perfect fit by an optician. Spectacles are different from regular sunglasses, so proceed with caution when using them. If they are exposed to heat or water, they may fry.
Unfortunately, there is no way to try on Spectacles before you buy. But, Snap offers a 30-day return policy with receipt, granted that the glasses are not damaged or changed. If you experience problems with your Spectacles, you may exchange them.
Interesting Things About Snapchat Spectacles
Spectacle lenses can be swapped for prescription lenses by an optician. Spectacles come in a Snapchat yellow magnetically sealed case. While it is rather bulky, it is more than just a case. You may use the case to charge your Spectacles. Just place your Spectacles inside the case and the contact points on the case will magnetically connect to the Spectacles. You can then plug a USB cord into the case and charge the glasses.
The case also has a built-in battery that can recharge your Spectacles up to 4 times while you're on the go. Spectacles can also be charged using a wall outlet. It should take about 90 minutes to fully charge your Spectacles. Spectacles' battery lasts one day, or up to 100 10-second snaps.
Spectacles can be shared among family members or friends. To share, just simply import all saved snaps and unpair the Spectacles. Spectacles' internal memory can save up to 200 snaps. Once your storage becomes full, Spectacles begins by deleting your oldest snaps. To learn more about Snapchat Spectacles, click here.