In honor of the weather and this day off of school, I would like to dedicate this post to a reflection of the  amazing years I have spent at SMU.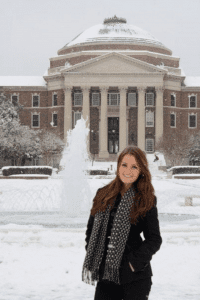 (This photo was taken three years ago during one of the most memorable weeks of my life, the infamous freshman year 'snowcation').
Wow! It feels like just yesterday that I moved into Boaz Hall and started meeting the people who have impacted my life so greatly, and would eventually become life-long friends. It's hard to believe how quickly these years have flown by and it is so surreal to think about how my time here at SMU is almost over. I remember visiting SMU as a junior in high school and thinking about how far away the 'real world' seemed. Now, I am almost a college graduate about to embark on the biggest transition of my  life, entering the 'real world.'
My eyes fill with tears of sadness as I reflect on the amazing times I've had here at SMU. I have met some of the most amazing people that I know will remain in my life forever. I have had the most rewarding experiences and for that I am very thankful. I will always cherish the memories of unforgettable nights I spent with these unforgettable people. But, it's not over yet. I still have one more semester of memories to make and moments to treasure and I plan on doing just that. I plan to live life to the fullest and take advantage of every opportunity I have left…Like my friends and I have said since freshman year, "we'll do it for the story."
I have learned a lot about myself over the past three and a half years and I have grown so much as a person. I realize now though, that my journey is far from over. It has only just begun. I can't wait to see what's in store for me.