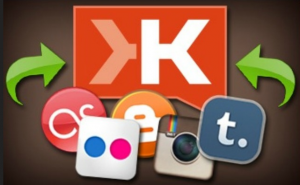 A new merger in the digital world has everyone talking this Valentines Day. Lithium Technologies has purchased the social media analytics startup company, Klout, which measures a persons online influence, for a projected $100 million dollars.  This purchase stands to allow Lithium a unique opportunity to integrate Klout's social media engagement tools within their already successful business practices.
Klout uses its own algorithms to rank those engaged in social media on a 1 to 100 track by connecting to Facebook, Twitter, and other sites. Beyond that, it looks at the users activity on the sites and their engagement (i.e. likes, retweets, shares, etc.) and from there is able to give that person a Klout score. This company was the brainchild of CEO Joe Fernandez, who envisioned a way to quantify one's social media influence while he was forced to utilize social media platforms while he was recovering from a broken jaw.
According to Recode, who broke the story early Tuesday, "It's a dead-on fit in terms of topic focus for the two companies…" with Lithium, the social  customer service company, Klout's social media metrics will allow better targeting and fine tuning of their systems. According to mashable, who sat down with Klout CEO Joe Fernandez this past week, the company was already in the process of a paradigm shift. "It has now become more of a social media dashboard, with a stream of content you're likely to want to share in order to boost your Klout score…the company has effectively pivoted from being a referee to being a coach."
For Klout, this is a lucky opportunity- after becoming a social media darling, problems arose after some Klout scores seemed inappropriately higher than others.  Perhaps the best known example was when Justin Biebier was said to have a higher score than President Barack Obama.
The merger would put Klout back on the right track, and sets Lithium up for a highly anticipated IPO release later in the year. Mashable has claimed that CNN has independently verified the purchase, and can confidently say papers have been singed, but no public announcement has occurred.  In the same article, responding to the report, Klout's head of marketing, Jon Dick, says simply: "we don't comment on rumor or speculation."