Whether you've been on the app for years or you're a Snapchat newbie, here are some cool and simple new Snapchat features to help you step up your Snapchat game and become snap savvy
Live Stories
If you're not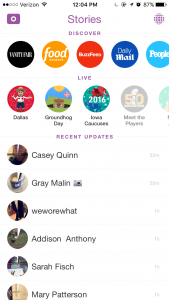 an avid reader of the The Wall Street journal or don't have enough time to watch the morning news, a new Snapchat feature provides a dose of daily news in a fun,visual and interactive way.You can also share the news with friends by holding down on the screen and choosing someone from your contacts.
---
Two New Ways to Add a Friend:
  Take a picture of your friend's screen- They will need to click the white Ghostface chillah at the top of their screen, where a big yellow icon with their snapchat name and snapcode will appear. Once you take the photo, you will hear a clicking a sound and boom they are added into your contacts.
2.  Add friends nearby- On the same screen where the big yellow icon appears, in white letters there is an add friends option. Click and you will see Add nearby. This only works if you are within close proximity, they are a registered snap chat user. Their names should appear under Quick Add, but if not, just click add nearby and a list of names will appear.
---
Figure Out Who has Re-watched your Story
Ever wonder who has watched your my story more than once? Swipe right from the main home screen. A list of your most recent snaps will appear and if you look next to their names and there is a gold star emoji,this indicates that they have re-watched your my story!
---
Snapchat Texting
On the same list where your most recent snaps appear, choose one of the names and swipe right. You can send a chat, a video or a picture. Snap text will appear blue, not red. The only downside is that the text disappears once you exit the texting screen, to avoid this, press down on the text and this will save it. The only downside is that it notifies the other person when you take a screenshot.
---
Live Video Streaming
This was new to me and something I had never used until today. While in the snap chat texting screen, in the right hand corner there is a small blue circle. You hold that down and the other person must hold it down as well, and within seconds you are having a face to face conversation. I was amazed by the quality of the audio and video and thought it surpassed typical Facetime.
Get out your phone and try experimenting with all these new snapchat features!
Check out https://www.snapchat.com/ if you are interested in learning more