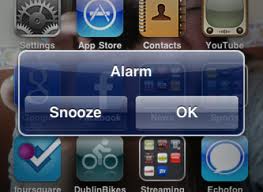 "BEEEEEEP…. BEEEEEEP… BEEEEEEP!"
It's 6:55 am and the morning alarm on your iPhone is sounding. Class doesn't start until 8 am, so without a moment's hesitation you hit snooze and fall back asleep.  Ten minutes later your persistent alarm is at it again. To finally get out of bed, or to doze into another ten minutes of rest: that is the question.
Does this morning scenario sound vaguely familiar? Do you struggle waking up to an alarm? Well Apple's App Store has a variety of solutions for you.
Rise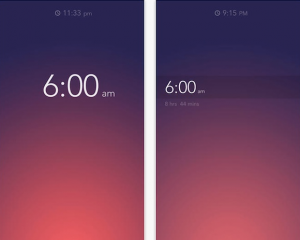 Rise is one of the most highly rated and simple alarm clock apps available. Rise is a multi-functional app that allows you to make a playlist to fall asleep to, select from a variety of alarms, and also counts down time until you wake-up. The coolest feature of Rise is its display that gradually changes from dark to light (sunrise) when it is time to get up. This app is sold for $1.99 in the App Store.
Step Out! Alarm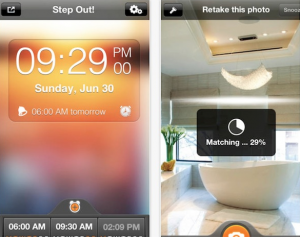 There is no excuse to sleep past your alarm with the Step-Out! App. The only way to shut off your alarm is to stand up out of bed. Using advanced image recognition and step tracking technology, Step-Up! is the first app of its kind. After the alarm sounds, it asks you to take a picture of a specific place (where you should be at that point in the morning) before it will turn off.  Another alternative to photo verification is the step technology. Once you have physically gotten out of bed and taken "x" amount of steps, the alarm will disable. If you're the type of person who has a difficult time waking up after you've turned off your alarm, then Step-Up! can be yours for $0.99 from the App Store.
Uniqlo Wake Up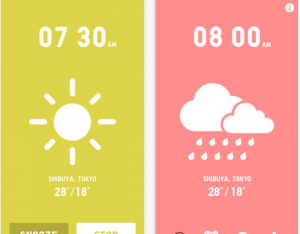 Created by a well-known Japanese clothing designer, the Uniqlo alarm clock makes waking up enjoyable. This alarm is complete with an assortment of sounds programmed to the weather for the day. The soundtrack to this app was also co-developed by Grammy nominee Cornelius and video-game creator Yoko Kanno.  If you are looking for a chic and trendy wake-up call, then this app is for you. Download it in the App Store for free.
Easy Wake Up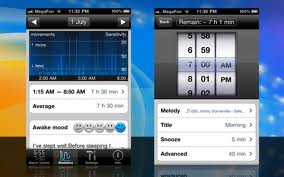 If you fight the constant battle of dragging yourself out of a slumber, then this is app is worth the investment. The science behind an unsatisfying night's rest is caused by forcefully waking up in the middle of a heavy phase of sleep. Easy Wake Up tracks your sleep cycles and detects when you are beginning or ending a cycle. Therefore, if you wake up during a lighter phase of sleep, you will be alert and ready to begin your day. Simply place your phone near you (e.g. under a sheet) during your sleep, set the time you need to wake up, and the app will gently awake you at the optimal time within the chosen interval.  This life-changing app can be yours for the price of $9.99 in the App Store.