Facebook can now bring friends together for dinner! Last week, Facebook announced its newest feature, Facebook Order Food. With this announcement, Facebook broke into the food delivery world. However, rather than attempting to compete with other food delivery apps, Facebook Order Food is coming at it in a different way. 
How does it work?
Facebook Order Food makes ordering online simple using the existing Facebook app. Using the Explore menu, users click "order food" and browse pick up or delivery options. Users can customize searches to include specific locations, prices, and pickup or delivery options. If a specific type of food comes to mind, its easy to search by different categories such as American, Dessert, and Vegetarian. Once the customer is ready, they simply select "Start Order" and the food is on its way.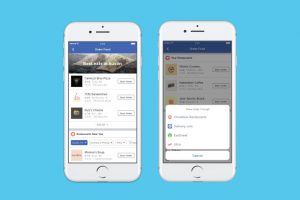 How is it different?
Facebook Order Food is taking on food delivery in a different way. According to techcrunch.com, rather than challenging existing food delivery services, Facebook is partnering with business such as DoorDash and Delivery.com. Additionally, it directly partnered with restaurants such as Jimmy John's and Jack in the Box to limit competition. By taking on this new feature in a different way, Facebook won't have to worry about competing with pre-existing apps. Another cool feature of this service includes, is the ability to review restaurants as well as view reviews from your Facebook friends. This makes the search for dinner more personal and brings users together. It gives users the ability to check out which restaurants are friends' favorites and choose from their recommendations.
While it seems new, Facebook Order Food has been in the testing phase for over a year. Carefully selected test-users have been able to try it out, but the verdict is not out yet.  Will Facebook Order Food be able to thrive in the food delivery industry?