There are few things that are more frustrating than sitting at a movie while someone in the theater continues to use their phone. There are lots of places, like movie theaters, that society tells us phones are off-limits: churches, classrooms, important meetings. But this doesn't help fight off the urge to check your phone under your desk. What if a special type of phone case could solve this problem? The Yondr phone case challenges phone-addicts by preventing the use of cell phones. 
The Yondr phone case challenges phone-addicts to live in the moment, without the distraction of technology. The company was created in 2014, in an attempt to show people how valuable it is to live in the moment when you're not focused on your phone. The company is attempting to create cellphone-free environments so people can truly stay in the moment.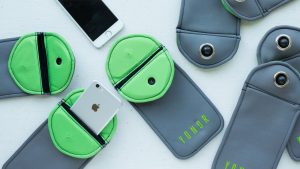 Here's How The Yondr Phone Case Works
The Yondr case is a small pouch with a magnetic lock on the outside. Upon arrival, audience members are asked to place their phones in the pouch. Once they enter the cellphone-free area, the pouch automatically locks. It will remain locked until a staff member taps the case at the base station upon exiting the venue. Comedians and musicians can easily contact the Yondr company to rent the cases. The cases are then shipped to them at the designated venue.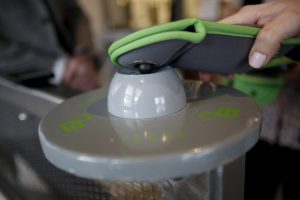 Yondr For Entertainers and More
Yondr is becoming increasingly popular in the entertainment industry. Comedians, musicians and other entertainers have begun using the Yondr phone case during their performances. It is particularly useful for comedians who don't want their material taken and used by others. The Yondr case challenges phone-addicts to enjoy the performance cellphone-free. Yondr has also been used in the classroom. Teachers have begun handing out the cases at the beginning of class to ensure their students are focused on learning rather than texting friends. 
There are, however, some safety considerations revolving around this new technology. For example, the case of an emergency, it could be unsafe for all members of an audience to be without a phone. The cases remain with the owner during the show and it is easy to feel if the phone is vibrating. That being said, there is still a bit of concern with