Ryanair, Europe's low far airline is known for many things, their outspoken CEO, Michael O'Leary being just one of the many. Known for his outrageous behavior, such as dressing up as a French chambermaid and cursing at journalists, it comes as no surprise that when O'Leary took to Twitter last week for a live Q&A session, things got interesting.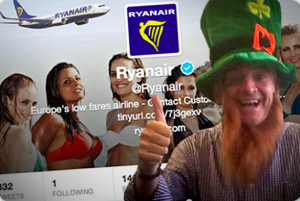 In this day and age most companies tread extremely lightly when it comes to social media. However, this was not the case for Ryanair when they allowed CEO, Michael O'Leary to take over their newly made Twitter account. O'Leary, who said in his 2010 book that he doesn't "give a rat's arse" when it comes to his personal dignity, proved this with the majority of his tweets.
O'Leary recently stated that Ryanair is working on improving their service in order to win over more costumers. In an effort to do so he encouraged followers to use #GrillMOL to voice their questions and concerns in an hour-long Q&A session. In this very entertaining process he managed to flirt, praise himself and even give some genuine answers about the company's future plans.
Not fully understanding the inner workings of Twitter, O'Leary started the session with a rough start. When answering the first question posed to him, O'Leary was unaware that his response would be seen by everyone. Responding to the woman with "Nice pic. Phwoaaar!" it came as no surprise when tweets such as "sexist pig" came rolling in. O'Leary laughed off the incident with his response, "just found out what hashtags are. Learning on da job! Always compliment ladies pics."
Eventually the session took off and Mr. O'Leary was able to answer some serious and silly questions while entertaining us the whole time. Here are some of the highlights of the live Twitter Q&A session: