No one wants strangers entering their home when they're not there, right? What if its the delivery man bringing your last-minute Halloween costume that you need right when you get home? Amazon thinks yes. The company is introducing the Amazon Key system, which will help you with problems just like that. 
Since its founding in 1994, Amazon has changed the way we do so many things, e-commerce specifically. What started out as an online bookstore, quickly evolved into what Bezos imagined from the beginning: any everything store. Today, people around the world use Amazon to buy almost anything. Most are particularly enticed by its special perks like Amazon Prime, free two-day delivery. Bezos is at it again, attempting to evolve online shopping by introducing the Amazon Key system. 
What is the Amazon Key system?
Amazon Key is a system that allows Amazon customers to monitor home deliveries remotely. The idea stems from the rise in package theft. Particularly around the holidays, criminals will go from door-to-door snatching up packages from people's doorsteps. By introducing Amazon Key to consumers homes, Amazon delivery-providers will able to enter homes for indoor deliveries.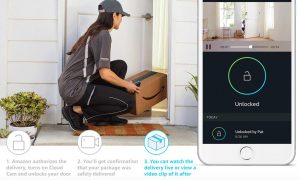 Why do we care?
Let's go back to the Halloween costume. Imagine you have a Halloween party to go to. You order a costume on Amazon while you're at work but you're worried it might get stolen from the front step. With Amazon Key, once the delivery man arrives, they will scan the label on the package. This will trigger the system to unlock the door and turn on the security camera. On the way out, they click the phone again, signaling the system to lock the door again. Homeowners receive updates throughout the process so they can rest assured that their package will be delivered without a hitch. As the Amazon Key system develops, it will eventually allow you to remotely allow housekeepers or dog walkers into your home as well. 
If that was confusing, Amazon it provided a video to explain it too. According to the Wall Street Journal, Bezos hopes that the $250 system will be "a fundamental way that customers shop with [Amazon]" in the upcoming years. Maybe letting strangers into your home won't be quite so scary anymore.