We're seeing quick progression in online shopping trends, so it makes sense that we're also seeing the mobile payment industry increase. Forget carrying around your wallet or having to take your card out to make an online purchase. Google is catching up with services like Apple Pay, PayPal, and Venmo with their own service called 'Pay with Google'. 
Moving in on the Mobile Payment Industry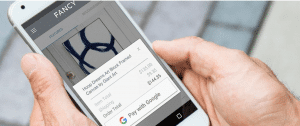 Companies are evolving and improving the convenience for consumers and stores with mobile payments. The mobile payment industry is booming so it was just a matter of time before Google hopped on the mobile wallet train. According to BlueSnap, it's expected that mobile payments will surpass the use of credit and debit cards by 2020. This week, Google launched its 'Pay with Google' service. The service offers a new, speedy way for you to pay on your mobile device.     
How it Works
'Pay with Google' allows you to use any card on file that is saved on your Google Account. This includes cards previously saved on Google Play, Android Pay, Chrome, and YouTube. When checking out on your mobile device, the option to use 'Pay with Google' will appear. From there, you can choose which card you would like to use. Plus, you don't have to go through the hassle of typing out your billing and shipping information because Google does it for you. Ultimately, Google is speeding up the checkout process for you. 
Where it Works
Since 'Pay with Google' is a new option in the mobile payment industry, there are a limited amount of stores and services currently integrating it. However, in a blog by Google, they say the service is simple to incorporate if you are a website or mobile app owner. It requires a few lines of code and it's free to implement. Instacart, KAYAK, StubHub, and Airbnb are among some of the places you can use 'Pay with Google'. 
With the growth of the mobile payment industry, Google will continue adding more partners so users can seamlessly speed through checkouts.