Now you can grow the reach of your personal brand or business with Twitter Promote Mode. The new advertising service launched into public beta last week. The goal of the service is to assist personal brands and small businesses in easily running automated ad campaigns on Twitter to grow a brands influence. 
How Twitter Promote Mode Works
Twitter Promote Mode automatically amplifies your message to a larger audience. Instead of managing Twitter Ads yourself, the service automatically promotes your tweets for you. Twitter Promote Mode runs as a monthly subscription for $99. Instead of manually making a tweet a part of an Ad campaign and trying to reach a targeted audience, users don't have to do anything to have their tweets reach a larger, interested audience.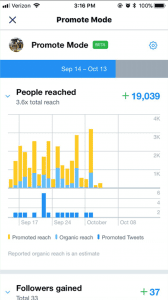 If Twitter Promote Mode is on, a user continues to tweet as usual. However, users can't choose which tweets are promoted. When the service is turned on, tweets that are promoted will present a "promoted" badge to display that it is an ad. Additionally, the tweets that are promoted can target up to five interested metro or region locations within a country. When the program is turned on, it's always running. The program provides constant background action to increase your influence each month. However, if you ever want to take a break from the automation, you can turn off the promotion status in the subscription menu.
The Numbers
In today's day in age on social media, analytics are key for understanding and reaching an audience. The new promotion service includes analytics on a mobile dashboard. Twitter Promote Mode subscribers can track the influence that their promoted tweets have towards an audience. According to TechCrunch, the dashboard displays how many people viewed your tweet during a certain time period, the amount of followers gained, profile visits, and the performance of individual tweets.
With a monthly subscription, you can turn the service on in your settings. The service can help small businesses or personal brands in growing their influence with little effort. Plus, with access to the numbers, brands can craft messages to better engage and target their interested audience.