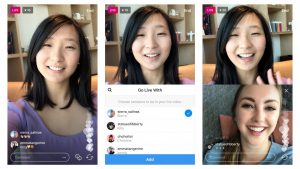 Instagram is a social media channel used by professionals and individuals. The app and online website are made to share pictures and videos. Instagram first came out with Instagram Stories that is like Snapchat Stories. This allows users to share photos for 24 hours. Recently, Instagram came out with a feature called Instagram Live. This feature enables Instagram users to broadcast to their followers in real-time. As a result of the popularity, Instagram launched a new feature for followers to join in on a live video they are watching.
How do Users Share Instagram Live with a Friend?
Instagram began testing the new feature to Instagram Live in August. The new feature allows users to add friends to their live videos when they watch in real-time. However, user's followers and friends must accept the invitation to stream. The Instagram Live screen splits, so both people's live feed is available at the same time. The person who is added to the Instagram Live can leave at any time. Right now, the feature only supports two people at a time.
How is this different than Facebook's version?
Facebook developed a feature for Facebook Live to have a dual-streaming aspect. The only people able to use this feature are viewers who use an app called Mentions. Whereas, any users on Instagram use Instagram Live's new two-person video. Instagram Live's new feature does not restrict users from using the two-person shared screen. However, Facebook's dual-person feature does.
Why will this be Useful to Companies?
Instagram Live's new feature will help companies with partnerships and create credibility. Influencers will be able to share the screen with companies they are partnered with to broadcast to all their followers. It will also help smaller companies or CEO's who are too shy speaking alone to have almost a 'friend' next to them.