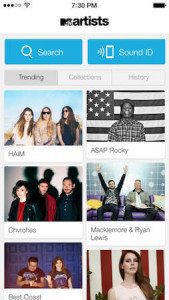 MTV Artists App for the iPhone takes MTV back to its music origins. The new app that was released Thursday, gives users an inside look at their favorite artists, new music and concert tickets all in one convenient location.
One feature of the app allows users to search for artists to view pictures and videos, and to learn more about the artists through biographies, band histories and interview segments. The app also gives you an overview of the artist by grabbing quick audio clips from Rhapsody through its "top 10 songs in 90 seconds" feature.
Another feature that the app has, similar to Shazam, allows users to tap the Song ID button to identify the song that they are currently listening to. Once the app identifies the song, all it takes is one tap to be transferred to the iTunes Store to purchase the song just researched.
The app also has a feature similar to Ticketmaster, to view concert dates and buy tickets to upcoming concerts. The app then transfers you to the mobile site of different sites such as Ticketmaster or StubHub to make your final transactions.
While the MTV Artists App for the iPhone won't be your primary application to listen to music, it is a comprehensive app that provides you with information on artists you're interested in as well as finding new music. The app is now available in the iTunes Store.