With the help of the millennial generation, the traditional Thanksgiving now also has a friendship counterpart called "Friendsgiving." During the first few weeks of November, groups will be hosting their own Thanksgiving feast, equipt with all the fall, food favorites and a special bonus: friends!
Forget the awkward small talk with long-distance relatives, why not have a mock Thanksgiving with your closest friends? (Well, you still have to go to the regular one, but no one says you can't have two). The Friendsgiving holiday has become quite the tradition as millennials learn to double the fun with two Thanksgiving dinners.
Feast Like a Beast
With each necessary side dish assigned to a person, the Friendsgiving holiday can easily be compared to a potluck. Of course the hostess gets stuck with the task of making the turkey (and the gravy), but at least this is all they have on their plate. Others are in charge of bringing the green bean casserole, mashed potatoes and cranberry sauce, giving each bestie only one item to hopefully not mess up. Anyways, who says you are not allowed to claim a store-bought pie as your own?
Feeds Full of the Friendsgiving Holiday
Like any Thanksgiving, the table will be set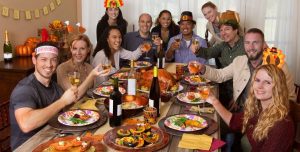 and the candles will be lit, ready for the several pre-feasting photos. If you have a Snapchat, Instagram or Facebook beware; your feed will be stocked and stuffed with Friendsgiving holiday pics. In fact, it has almost become a rivalry amongst millennials to see who can have the most festive Friendsgiving. Photos are videos are snapped left and right in order to document the successful holiday.
At the end of the day, Friendsgiving is all about spending time with those you love. The meal serves as a "last hoorah" before you all go your separate ways for the holidays. As long as your table is full of friends and food, you can assume your besties will be back next year for an even better Friendsgiving.