Burger King and Wendy's  Introduce  Mobile Payment Apps 
Having the ability to pay for things via smartphone has become a somewhat common phenomenon.  However, in recent weeks fast-food restaurants have been jumping at this trend.  Burger King and Wendy's, popular fast-food chains, have recently announced plans for mobile payment of fast food via smartphone.
The majority of Wendy's approximately 5,800 United States locations are now able to accept mobile payment.  To pay with the Wendy's app, the consumer  first download the app and then will simply tell the cashier a six-digit code displayed on the smartphone.  Burger King's app will allow you to being paying online in over 7,000 locations by April. The company plans to add on the ability to not only pay for, but also order  fast food via smartphone in coming months.  This mobile ordering methodology also has the added benefit of quickening the drive-through line, making fast food that much faster.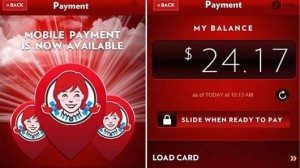 This new payment method seems to be an attempt by the fast-food industry to entice a younger audience by tapping into their devout attachment to smartphones.  This trend in mobile payment seems to be well accepted by millennials.  This generation seeks the ease of cashless transactions and  has the desire for everything to be customized to their particular needs and wants.  McDonald's, Chipotle, Starbucks, and Dunkin' Donuts have all  been said to be testing the idea of mobile ordering, loyalty programs, and ways of pursuing a younger consumer demographic via various smartphone apps.
Paying via mobile phone also gives the companies a new space to advertise to the consumer.  While paying for their meals consumers can check nutrition facts, receive updates about the company, and obtain coupons and other promotions.  Mobile payment has the potential to drive a massive amount of sales and awareness for these fast-food restaurants.