Microsoft Office for iPad is officially here, just four years short of the 2010 iPad release.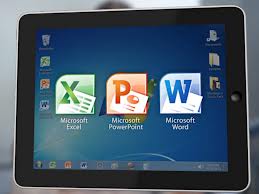 According to a press release from Microsoft yesterday, the company will now be offering free mobile apps for both the Android and iPhone, and the Enterprise Mobility Suite, "a comprehensive set of cloud services." However, the most notable of these offerings is the announcement of Microsoft Office for iPad. 
Microsoft notes that Office 365 subscribers will be able to use Microsoft Office for iPad as of yesterday and can now use Word, PowerPoint, and Excel on their iPads via free downloads in the App Store. However, according to an article by Time, only Microsoft 365 users will be able to edit and create documents. Those who are not Microsoft 365 users can only view and display files through the applications. Still, the development of Microsoft Office for iPad will allow for more streamlined file sharing among those in the business community. As Time aptly noted, "the world's dominant productivity suite debuts on the world's dominant tablet."
So, why did it take so long? It's not as if there hasn't been a lack of demand or reason to release the application. According to an article by Ubergizmo, Microsoft CEO, Satya Nadella, "The thing we wanted to get most right was the combination of what I would call the combination of the app, the enterprise architecture, the developer APIs, and then marry it with the device and what you expect from the device…It's not just a trivial thing, let's port Word for Windows to a particular device."
It's understandable that the company, which always appears to be lagging behind innovative giant Apple, would want to wait for a release until the technology was perfect. But was four years too late? Tom's Guide gives Microsoft Office for iPad four out of five stars, noting its touch friendly, easy-to-use and clean interface. However, Microsoft Office for iPad looses points for lack of a printing ability, and limited editing and sharing options.
Hopefully the Microsoft Office for iPad didn't enter the game too late. But it seems that the familiarity of the Microsoft applications will allow a smooth, although late, transition into the tablet world.