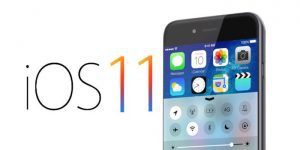 Earlier this week, Apple finally released their iOS 11 update. This update is compatible with phones 5S or later, iPad mini 2 or later, or the 6th generation iPod touch or later. As usual, the new update involves a lot of new features as well as the remodeling of old ones.
Here is a List of some the new features that come with the iOS 11 update:
Newly designed control center

Apple has consolidated all of the control center features into one easy to use window. The features are customizable with a wide range of functions.

New and improved Siri

The male and female voice have been redesigned to properly mimic an actual human voice. Siri also analyzes what a user does on their phone so it can understand preferences and sync that across all of their apple iOS products. There also is a translation function for Chinese, French, German, Italian, and Spanish.

The files app

This is one of the biggest new features on the new IOS 11 update. Files is designed to mimic the finder app on a Mac. It is a well-organized application that allows quick and easy access to anything that is stored on an iOS device.

Using Apple Pay to send money through iMessage

Much like the Venmo application, now you are able to electronically send money to any of your contacts using Apple Pay in iMessage. All you need is a standard fingerprint authentication then you are able to send money to any Apple Pay compatible device.
As usual, the iOS 11 update still has its flaws.
Some people are saying that if Steve Jobs had the chance to rate the new update, he would give it an F. According to different Developers, the new update has inconsistency in color schemes, the alignment of headings are off, and many other design details. In addition, there have been problems with battery life and apps quitting while in use. However, even in light of these minor issues, people are still converting to the new iOS 11 update.