A new study came out asking who's buying the iPhone 6 and the results were very interesting. The vast majority of iPhone 6 consumers are rich, white men.
According to Slice, a company that tracks consumer purchases, more than 80% of iPhone 6 consumers in the United States are male, 2.3 have college degrees, and 60% make over $75,000 a year. Because these men are making an above average salary, they are willing to spend at least $650 on a phone.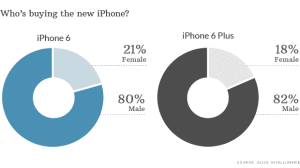 Research has also showed that buyers of the iPhone 5C and 5S have the same demographics as people buying the 6. Because the iPhone has only been out for a month now, the results could easily change and people from different demographics could shift this data.
Research also showed that the iPhone and Android are almost tied in terms of cellphone owner population in the United States. Although there numbers are almost the same, the demographics are very different. According to Pew Internet and American Life Project, ownership ratio differs between demographic groups.
Android owners have a broad range of education and income levels and iPhone owners are mainly on the upper end of income and educational spectrum.
These results are all subject to change. Because the iPhone 6 is very new (it has only been out for a month now) these results could easily change. In the next few months popularity of the iPhone 6 could increase for women and people from lower incomes and educational backgrounds causing a complete change in results.