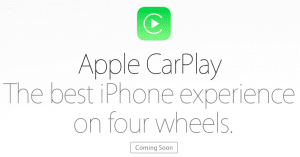 First it was the auxiliary cable, next USB ports, then a slight upgrade to bluetooth capabilities and now CarPlay, Apple's new in-car software coming to automobiles this year. Dubbed the "smarter and safer way to use your iPhone in the car," CarPlay will display the basic functions of the iPhone right on your car's dashboard instead of holding your iPhone in front of your face or using a finicky phone mount.
For now, CarPlay is only compatible with iPhone 5 and newer phones with the lightning port. Users can simply plus in their iPhone and receive phone calls, messages, listen to music, use Siri, and have directions displayed right on the dash. On top of the basic Apple iPhone apps and functions, CarPlay supports popular music apps like Spotify, Beats Music and iHeartRadio for more music streaming options for any car trip.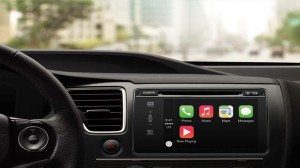 And CarPlay, in many senses, is necessary. Let's face it: Siri does not work through bluetooth. At least, not like she's suppose to. With Siri built into your  vehicle, CarPlay will seriously make your drive easier and as Apple claimed 'safer." Currently, iPhone users may have the ability to use bluetooth to make calls through their car and listen to music, but the issue was not being able to use the buttons or knobs on the steering wheel or dashboard to control your iPhone. CarPlay eliminates this common nuisance and in Apple fashion, makes fans squee "I need that!"
You can expect CarPlay in high-end Ferrari, Jaguar, and Mercedes and lower-end Hyndai, Honda, and Volvo beginning this year. Apple boasts committed partners for future implementation from Chevrolet, Ford, Land Rover and more.
Want to see Apple's CarPlay in action? See CarPlay installed in this Ferrari, or wait for the public demonstration of the system on March 6 at the Geneva Motor Show.
Is CarPlay a 'must-have' or just another neat Apple product? Sound off below.