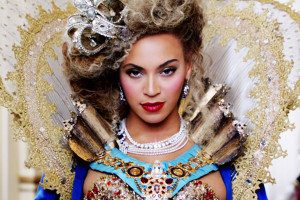 Is social media ruining our concert experiences? Musical artist thinks so.
If you are at a Beyonce concert and Beyonce tells you to "put that damn camera down", you better put that damn camera down. The original purpose of seeing your favorite artist in concert was for that magical experience of seeing your favorite artist live. Today, social media makes us want to document the experience, and sometimes we are so into getting the perfect and clear shot we miss out on enjoying the live experience.
When Beyonce performed in Atlanta, she stopped her concert to give a fan a special message:
"See, you can't even sing because you're too busy taping," Beyonce said directly to her fan. "I'm right in your face baby. You've got to seize this moment, baby! Put that damn camera down."
Of course you do what Beyonce says! The fan put the camera down and Beyonce approved by saying "Yes, that's much better." But Queen Bey did not end there, she told everyone to start singing along with her and for "everybody to put their camera down!"
John Mayer recently said, "Fans are too busy on their phone to enjoy the concert." Mayer feels that when he performs people are too busy filming his concert; and sometimes he thinks they are not enjoying the show. He says that he has to take it to social media to look up footage on Instagram or YouTube to see if his fans really enjoyed his concert.  He said it's pretty hard to applause when you are holding your phone in one hand. Have to agree with you John.
Going to concerts especially if it is an artist you really like, try to keep your Instagram, Vining, Facebooking, and Twittering to minimum. Like Beyonce said "You've got to seize the moment, baby!"
Anything for you Beyonce!