If you are from Dallas, when you hear Oak Cliff you might cringe. Despite the neighborhood's reputation for high crime, there is a bright light beaming from 2120 W. Jefferson Street.
The music program of Sunset High School, directed by Mr. Jon Sarver and Mrs. Rametria Smith, will be hosting, "An Evening at the Meyerson". The Sunset Choir as well as Concert and Jazz Band will performing at The Morton H. Meyerson Symphony Center next Wednesday. This is the first time the SHS Music Department will be hosting such an elegant event. "We decided on the Meyerson after considering we have outgrown our auditorium, and our students have worked very hard this year," said Mr. Sarver at today's pep rally.
The students were being rewarded for finishing the TAKS Test. The Sunset Choir had the honor of performing an exclusive song with Dustin Cavazos, a 2012 Dallas Observer Music Award Nominee. The choir had been rehearsing all week. "I wrote this song just for you Sunset, I am proud of you all," Dustin said into the microphone.
Dustin Cavazos & SHS Choir : https://vine.co/v/bxBZTjlLELu/embed
Desiree Cervantes, a junior at SHS, was ecstatic when she explained what was in store for May 1st. "We will be performing some of our UIL pieces." Another junior, Andrew Ortuno, mentioned they will also be performing Baba Yetu, a Grammy Award winning song by Christoher Tin. "The song is in Swahili," Andrew said excitedly.
Although the students are very talented, there are two additional stars worth mentioning. The Choir Director of 17 years, Mr. Sarver. Having observed his work for nine years now, it is clear that his passion for music and the youth of Oak Cliff is unconditional. Mrs. Smith, the SHS Band Director, led the SHS Marching Band to receive the top award at UIL this year. It is the first time they have receive a one in about last thirty years.
There is no doubt the student's mannerisms derive from the respect and pride they have from being members of a great music program. And instructors like Mr. Sarver and Mrs. Smith are to commend for it.
For more details and to purchase tickets please visit :
http://www.sunsetalumni.com/bandchoir.html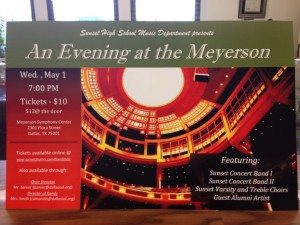 https://www.dallassymphony.com/about-us/the-meyerson.aspx