Almost everyone has an Instagram account these days. Whether it is a personal account or for a business, Instagram is used across the board to share videos and images with both friends and the public. While most organizations have accounts, not everyone uses them to their full potential. Retail businesses, in particular, have a huge opportunity with this social media platform. One of Instagram's latest updates, Instagram stories help retail marketing in a new way. 
Instagram stories help retail marketing for small businesses.
About a year ago, Instagram launched its "Instagram stories" feature. What worked well about this update was that most users were familiar with this concept from using other social media apps like Snapchat. Because users were already familiar with the concept, there was no learning curve involved with posting stories.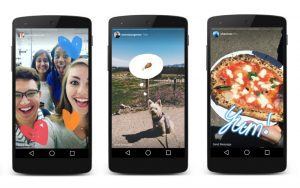 Instagram stories help retail marketing because it is a more casual way to post about new products or services. According to the app's official blog, this new feature "lets you share all the moments of your day, not just the ones you want to keep on your profile". For retail stores, regular moments of their day include getting in new products and changing displays. These everyday activities often don't warrant a normal photo post. This is where the stories come into play. 
Why Instagram stories are perfect for retail marketing
Stories allow small businesses to create a personality for their brand by showing new perspectives. Retailers can post about new products or services in a quick way, without having to worry about getting "the perfect shot" that's necessary for a regular post. They can include fun things like boomerang posts, photos that move in a constant loop. Stories are good because businesses can show off specific products in a less permanent way. Stories go away after 24 hours so businesses don't have to worry about customers getting annoyed with the number of posts in a day. Additionally, rather than coming up on a follower's feed, stories only show at the top of the screen and must be clicked on in order to view them. Customers can watch as they please without feeling bombarded by the images. 
In short, Instagram stories are a less complex way to help retail marketing and to give customers the ability shop without feeling overwhelmed.