Television: the broadcasting of a still or moving image via radiowaves to receivers that project a view of the image on a picture tube (Dictionary). Although the television still does the same job, the process of watching has tremendously changed in recent years. Did you really watch the finale of Breaking Bad if you didn't make the Facebook status, "All bad things must come to an end", were you one of the millions to tweet about Miley Cyrus' VMA twerking performance? In the digital world it is not about watching, it is about telling.
Facebook
Facebook recently announced that they are going to provide select broadcasters with weekly data reports. The reports would include information such as: the amount of likes, comments, shares and other actions that the TV networks shows receive. Facebook will send these reports to ABC, NBC, Fox, and CBS, America's four largest TV networks. In the ongoing battle of Facebook vs. Twitter, Facebook is hoping the data provided will show networks the importance of Facebook as a marketing/advertising channel. In order to be successful though, Facebook needs to translate metrics into the universal language of dollar signs for the broadcasters.
Twitter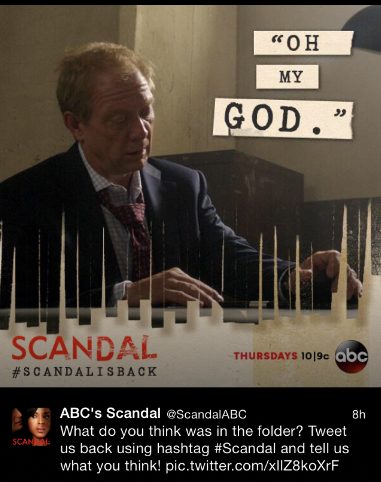 Twitter and television has emerged as a natural partnership over the past few years. Shows such as Scandal have a full Twitter plan that coincides with the television schedule. For example, last night there was live tweeting for the Scandal season 3 premiere. Tweets came from the @ScandalABC account and cast member's personal handles. Viewers were encouraged to use the hashtag #AskScandal during the show and following the premiere were told to tweet their predictions for next weeks episode. With the success of this campaign, among others, will TV shows soon have to pay for their publicity/partnerships on Twitter?
Most recently in the Twitterverse is the emergence of a new advertising tool, Amplify. Amplify allows advertisers to embed video clips within tweets, which Twitter insists can help clients more promote their products vs. Facebook, a recent article in Media Bistro stated. CBS is the first company to take part in Twitter's video advertising.
And the winner is…
"Becoming the go-to hub for real-time events like television shows could draw more user activity and advertising dollars," and is the motivation behind it all (The Wall Street Journal). Will Facebook or Twitter come out on top of the television world?