For years, Facebook users like you have been longing for a "dislike" option to complement the "like" button. Although this never occurred, Facebook finally implemented several other reactions other than "like." Last week, Facebook redesigned this button, adding five emoji complements: "love," "haha," "wow," "sad," and "angry."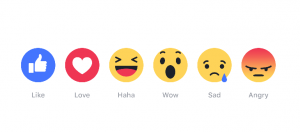 Finally, you can use these emojis to express different reactions other than "like." In the past, users have complained that it doesn't feel appropriate in a lot of circumstances to like a post that could be about death or a troubling matter. Mark Zuckerberg wrote: "Sometimes you want to share something sad or frustrating. Our community has been asking for a dislike button for years, but not because people want to tell friends they don't like their posts. People want to express empathy and make it comfortable to share a wider range of emotions." Zuckerberg also explained that a dislike button was never implemented because it would allow users to criticize one another. People are excited that the reactions allow them to indicate their true feelings on a post. To access these reactions, hold down the like button on your smartphone, or hover over the like button on your computer.

Facebook will collect data from each reaction to personalize your News Feed so your it is not be monotonous or stale. This data also helps Facebook decide which ads you will see in your feed. Liking something on Facebook implies that you would like to see more of this on your News Feed. Reactions will ensure that you will see exactly what you want to appear on your Facebook page. This implementation should lead to users to spend more time on this social network.
With the ongoing progression of social media, outlets constantly alter and add features to keep you on these platforms. Facebook's introduction of the "like" button revolutionized this channel, allowing people to express their acknowledgments on different posts. With the new reactions, users can express their feelings and concerns in a deeper manner.