Yes. The rumors are true. According to Evan Spiegel, Snapchat's beloved CEO, Snap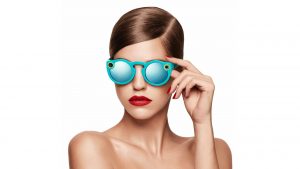 chat has revealed its Snap Spectacles. The spectacles will be released in the fall of 2016 in three blooming colors: black, teal or coral. These snazzy new sunglasses aren't just cool because of their futuristic design. Oh no. These spectacles take videotaping to a whole new level.
While normal designer sunglasses can range anywhere from $60-$600, the Spectacles come at a modest $130. Not only do they protect your eyes from the sun, but they can also video tape your life in color. Literally.
The sunglasses will be able to record any video you want with a quick tap of a button on the top left corner of the glasses. The videos, similar to a regular Snapchat, can last up to 10 seconds;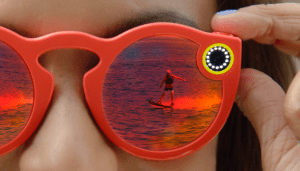 however, if you want to record an even longer amount, you just tap the small button again until you are satisfied. According to Spiegel, you can record up to 30 seconds of footage total.
Snapchat vs. All Other Social Media
It's no shock that there is going to be a new gadget for the worlds Millennials to play with and test out. The real question here is: how will other social media's compete with Snapchat's ever changing nature? Not only did Snapchat shock the world with their new virtual reality tech, but they also rebranded their entire company to Snap Inc. This new corporation will not only cover the Spectacles, but it will also cover Snapchat's general social media application.
Recently, there was question whether Snapchat would be able to sustain itself much longer. Recent studies and statistics showed that Instagram stories were a much better deal for brands to market with. Ironically, Snapchat and Spiegel never seemed to worry to much about their social media competitor's "copy-cat" move.
The social media sphere is now speculating that it was most likely because they had already had something even bigger brewing. Snapchat spectacles will change social media video viewing. And now brands, other social media outlets and consumers will all have to take that into account.