After an extremely successful launch in November, Snapchat has taken the approach to making their branded Spectacles more readily available. The ordinary looking glasses have the capacity to record 10 to 30 seconds of video at a time, capturing one's personal view,
Initially, the company took a slow approach, introducing the new technology through scattered vending machines. At first, individuals waited hours to get this coveted accessories and according to CNN resellers listed the glasses for more than $900 on eBay.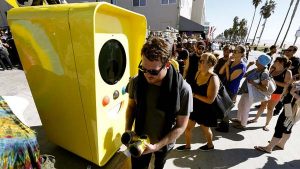 However, tech-obsessed individuals were in for a nice treat this morning. On February 20, Snapchat announced they would begin selling these glasses from their website. This jump to a more traditional selling technique is generating speculation in the tech world as many think it is indicative of a software upgrade.
According to a recent report from The Information, Snap Inc. is working on a more sophisticated version of their classic filters and spending millions to improve their augmented reality capabilities.  These reports indicate that Spectacles  upgraded system potentially can " identify objects and wrap them in an AR layer, essentially turning any surface into a billboard and adding new branding opportunities to every Snapchat story."
As an avid snap chatter and a proud owner of spectacles, I can only hope this new idea becomes a reality. Stay tuned for more!