The average human attention span is roughly 8 seconds, according to a New York Times Source, so it seems logical that the mobile applications that have concise, bite-sized content are most popular. Two perfect examples are Snapchat and Instagram that both have content short enough to keep the users engaged and coming back for more. It would make sense, then, that news apps with short content would be preferred methods of consuming news, however a recent Pew Research study draws other conclusions. Pew Research discovered that long-form journalism will not go extinct despite society's obsession with digital technology. Longer articles attract an equal number of mobile visitors as shorter news articles do, demonstrating that bite-sized news does not trump full-length articles. With that being said, Pew Research also reported that only 22 percent of Americans trust social media as an accurate news source.
Pew Research's study is in line with a recent article by Business Insider that points to headlines involving Facebook's fake news and how "messy" the digital world is. Situations like Facebook's create additional trust issues among users who question the accuracy of the news they read. A very interesting statista chart included in the Business Insider article shows the percent of Americans who trust each news source. The data depicted in the chart should be a slight relief for print newspapers and broadcast TV who don't have to be too threatened by social media entering their news landscape due to the fact that 59 percent of Americans trust broadcast tv over 15 percent who trust social media.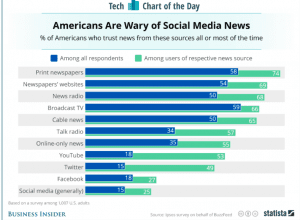 So even though we have shorter attention spans than goldfish (New York Times), we still prefer full-length articles from credible sources like news apps over finding news on our social media apps. This information is meaningful to almost anyone in the business world because of digital media's relevancy in all facets of business. The knowledge that full-length articles and apps other than social media are preferred methods of getting news should influence  how businesses establish themselves in the digital space.
To read more about short attention spans click here .
To see Pew Research's findings click here .