Instagram's newest algorithm is being as well-received as losing an hour of daylight in November – that is, it's not being well-received at all.
Word of a new algorithm started circulating among the social media influencer community last week. Influencers like Cameron Rogers of @freckledfoodie and Danielle Berstein of @weworewhat took to their profiles to let their followers know that Instagram's newest algorithm likely meant that followers wouldn't come across their content as frequently anymore. For influencers, or for anyone that makes money off of Instagram, for that matter, this threatens the engagement rate of their posts. Cameron Rogers reposted an Instagram from the account @shityoushouldcareabout instructing her followers on the best way to engage with her posts in order to keep engagement up amongst the new algorithm change.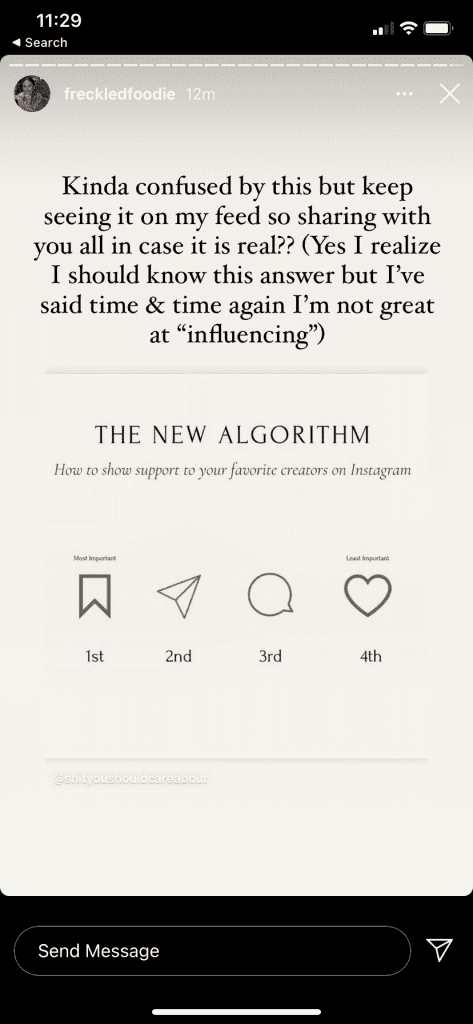 So, what exactly is Instagram's newest algorithm going to mean for the average, run-of-the-mill user? According to a social media managing website, Mavsocial, the algorithm is supposed to show you the content by the people that you actually care about: "Their idea is to show you posts that could be most valuable to you based on your previous activity."
It's unclear exactly when the new algorithm is going live and how different it's going to be from the current algorithm, but if you want to make sure that your or your clients' posts continue to have high engagement on Instagram, you need to educate your followers on how they can best interact with your posts.
Saves. The save functionality on a post is the biggest factor affecting engagement rate.
Shares. Instruct your followers that direct messaging your posts to other users on the platform is another great way to keep engagement high.
Comments. Interacting with a post via commenting is another great way to show influencers support.
Likes. Likes are the fourth and least impactful way to increase engagement. Encourage your followers to keep on liking, but let them know that the first three steps are even more important.
Instagram has become notorious for switching up its algorithm when users are least expecting it, so it's best that you stay up to date on how the app changes on a regular basis. As far as Instagram's newest algorithm, encourage your followers to follow the four steps of engagement, and continue to support your favorite influencers as well by doing the same.